1-1-13 " It is finished"
44 The difficulty of crying with a loud voice must be meditated upon. This is why He asked for the drink.
The Sayings From The Cross (6):
" It is finished" (Jn. 19:30)
It is apparent that all of Christ's last words on the cross were full of intense meaning. This was a final victory cry. The spirit of the New Testament is that the cross was a pinnacle of victory, not of temporal defeat. There is no way that Christ was just muttering the equivalent of 'Well, that's it then'. " It is finished" encompassed so much. That tiny word " it" , not even present in the Greek or Aramaic which Jesus actually spoke, compasses so much; the whole purpose of God. " When Jesus therefore had received the vinegar, He said, It is finished" indicates that our Lord asked for a drink specifically so that He could say these words, and those that followed (" Into thy hands I commend my spirit" ). Considering the difficulty of speech as He hung there and His intense thirst, He evidently meant us to hear these words- and meditate upon them.
The Glory Of God
So we ask the question: What was finished? The key to this question is in Jn. 17:4: " I have glorified thee on the earth: I have finished the work which thou gavest me to do" . " The work" is therefore parallel with Christ's glorification of God. " It is finished" therefore reflects Christ's appreciation that He had now totally glorified His Father. But we need to ponder what exactly it means to glorify God. The glory of God refers to the characteristics intrinsic in God's Name; thus when Moses asked to see God's glory, the attributes of the Name were declared to him. Christ understood that in His death He would manifest God's Name / character to the full, although of course He had also manifested it in His life: " I have declared unto them (the believers, not the world) thy name, and will declare it" in His forthcoming death (Jn. 17:26).
It is a major theme of John's Gospel that God was glorified in the death of Christ (further discussion of this will be found in Study 3.10):
" Father, glorify thy name. Then came there a voice from Heaven, saying, I have both glorified it, and will glorify it again" at the cross (Jn. 12:28)
" Now is the Son of man glorified, and God is glorified in him (i.e. the achievement of God's glorification was internal to Jesus, within His mind, where characteristics are found). If God be glorified in him, God shall also glorify him in himself, and shall straightway glorify him" on the cross (Jn. 13:31,32)
" And now, O Father, glorify me with thine own self (i.e. your fundamental being and character) with the glory which I had with thee...I have manifested thy name" (Jn. 17:5,6).
" I have declared unto them thy name, and will declare it" on the cross (Jn. 17:26).
Christ's perfect character is only appreciated by the believers, and therefore it is only to them that God's Name / glory / very own self is revealed by Christ's example. It was to us that God's glory was finally revealed in the death of Christ. To those who wanted to see it, there was almost a visible righteousness exuding from Christ in His time of dying. " Truly this man was the Son of God...Certainly this was a righteous man" (Mk. 15:40; Lk. 23:46) was the response of the Centurion who was " watching Jesus" ; and collating the Gospels, it seems he said this twice. " It is finished" implies that Christ's manifestation of the Father was progressive. He was " made perfect" by His sufferings, only becoming the author of our salvation when He had finally been perfected by them (Heb. 2:9; 5:8,9). This surely teaches that Christ died once He had reached a certain point of completeness of manifestation of the Father. If we accept this, we should not think of Christ just hanging on the cross waiting to die. He was actively developing His manifestation of the Father's characteristics, until finally He sensed He had arrived at that totality of reflection of the Father. Likewise in our carrying of the cross we are not just passively holding on until the Lord's return or our death. We should be actively growing; for surely we only die once we have reached, or had the opportunity to reach, a certain point of spiritual completeness. This may well explain why some believers die young relatively soon after baptism; they reach their intended completeness, and are therefore taken away from the grief of this life. The perfection of Christ's manifestation of the Father was steadily progressing until at the point of death He completely manifested Him. Thus at Christ's most forlorn and humanly desperate point, utterly exhausted, with no beauty humanly that we should desire Him, utterly despised, rejected and at best misunderstood by every human being, the Lord Jesus at that point was supremely manifesting the Father; He was manifesting God's very own self at that point when He cried " It is finished" (Jn. 17:5). It is axiomatic from this that the Gospel of God will be generally rejected by men. The Lord foresaw that His cross would be the final consummation of God's plan in that He at times almost spoke as if He saw His death as His glorification. Thus He speaks of the cross as a going to the Father (Jn. 16:16,17,28). The description of Him as the snake lifted up in the wilderness is in the context of Christ ascending to Heaven (Jn. 3:12-14), as if the lifting up of the snake was a reference to both the crucifixion and ascension of the Lord.
" We ought..."
At the point Christ expired, He laid down His life. So close was the link between Father and Son at this point, so deeply was God in Christ reconciling the world unto Himself, that John could later comment: " Hereby perceive we the love of God, because He laid down His life for us: and we ought (in response) to lay down our lives for the brethren" (1 Jn. 3:16). The love of Christ and the cross are paralleled in 2 Cor. 5:14. To behold Christ there at the end, to imagine the sound of those words " It is finished" , to begin to sense Christ's spiritual supremacy at that point, should deeply deeply motivate us. Christ loved us with a love which was love " unto the end" (Jn. 13:1)- the same word translated " finished" in " It is finished" . As Christ said that, His love for us was complete, it was love unto the end, love right up to and beyond the limits of the concept of love. And we are actually asked to imagine that love, the growth of it for us until it was finished, perfected in the laying down of His life- and respond to it.
The Lord thought as much: " I have declared unto them thy name, and will declare it (in his forthcoming death, cp. Jn. 12:26): that the love wherewith thou hast loved me may be in them, and I in them" (Jn. 17:26). "In this we know love, that he laid down his life for us" (1 Jn. 3:16). Herein was the definition of love, not that we loved God but that He loved us and gave His son for our sins (1 Jn. 4:10). By beholding the finished perfection of the Lord Jesus, the spirit of Christ will dwell in us, and the love of God will be deeply in our hearts. There is almost a mystical power in reflecting upon the example of the Lord Jesus on the cross; somehow by beholding His glory, His matchless display of God's righteousness at the end, we will start to reflect that glory in our very beings. " We all, with open (RV " unveiled" ) face beholding as in a glass the glory (moral attributes, the peerless character) of the Lord (Jesus), are changed into the same image from glory to glory, even as by the Spirit (mind and influence) of the Lord (Jesus)" (2 Cor. 3:18). Time and again is it stressed that the Lord did all this "for us". Jn. 10:14,15 link His knowing of us His sheep, and His giving His life for us. It was because He knew us, our sins, or kind of failures, who we are and who we would be, and fail to be…that He did it. And knowing our brethren, building understanding and relationship with them, is how and why we will be motivated to the same laying down of life for them.
The Work Of God
But the work finished by the Lord Jesus was not just the faultless display of God's characteristics. The Son's manifestation of the Father was to the end that we might be saved (a point fundamental to an appreciation of the Gospel). The work that Christ ended when He cried " It is finished" was the execution of the whole will of God; for the work that He finished was God's will: " I have meat to eat that ye know not of...my meat is to do the will of him that sent me, and to finish his work" (Jn. 4:32,34). The will of God is that we might be sanctified, counted as righteous, and ultimately given salvation (1 Thess. 4:3; 2 Pet. 3:9; Heb. 10:10). " I came down from heaven...to do...the will of him that sent me...and this is the will of him that sent me, that every one which seeth the Son, and believeth on him, may have everlasting life" (Jn. 6:38-40). God's will is that we should " see" , i.e. understand, the righteousness of Christ, and believe that this will be imputed to us, and thereby we can be saved. To have an appreciation of the righteousness of Christ is therefore something absolutely essential for us to develop.

To achieve that fullness of righteousness and salvation for us meant more to the Lord Jesus than physical food; His great physical hunger in John 4 was bypassed by the fact that He was bringing about the salvation of a fallen woman. He had a baptism, i.e. a death and resurrection, to be baptized with, and He was " straitened until it be accomplished" (Lk. 12:50), the same word translated " finished" in Jn. 19:30. He agonized throughout His life, looking ahead to that moment of spiritual completion. The more we appreciate this, the more we will be able to enter into His sense of relief: " It is finished / accomplished" . And this too should characterize our lives; ever straining ahead to that distant point when at last we will attain that point of spiritual completeness. The incident with the Samaritan woman in John 4 was recognized by Jesus as but a cameo of His whole life; our salvation through His perfect manifestation of the Father was the end in view, it was this which was all consuming for Him. He was not motivated solely by a desire firstly for His own salvation, as some of our atonement theologians have wrongly implied. His meat and drink was to do the Father's work and will, which was to save us through imputing Christ's righteousness to us. This is what motivated His obedience, His perfection; it was our salvation which was the last thing in His human consciousness as He cried " It is finished" . His attitude, both at the start of His ministry and in His approach to His death, was " Lo, I come to do thy will, O God...by the which will we are sanctified (counted righteous) through the offering of the body of Jesus Christ" (Heb. 10:10).

" It is finished" - from the rear: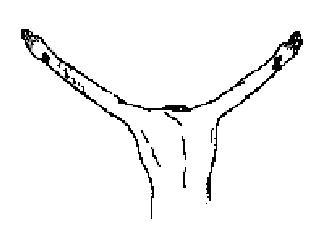 Old Testament Allusions
" I have finished the work which thou gavest me to do" , ultimately finished when Christ cried " It is finished" (Jn. 17:4; 19:30), alludes to several Old Testament passages. Daniel 9:24 had prophesied that Messiah's sacrifice would " finish transgression...make an end of sins...make reconciliation for iniquity...bring in everlasting righteousness...and to anoint the Most Holy" , as if a new sanctuary were being inaugurated. In prospect, the whole concept of sin was destroyed at the point of Christ's death, the devil (sin) was destroyed, the opportunity for us to have the everlasting righteousness of Christ imputed to us was opened up. " It is finished" may well have been uttered with an appreciation of this passage (for surely Dan. 9 was in the mind of our dying Lord). In this case, Christ died with the final triumphant thought that our sinfulness had now been overcome,. Surely this should inspire us to a fuller and more confident, joyful faith in this.

Ex. 40:33 is perhaps the clearest basis for the words of Jn. 17:4. This describes how Moses " reared up" the tabernacle, representing us (2 Cor. 6:16); " So Moses finished the work" God had given him to do. Dt. 31:24 likewise speaks of Moses finishing the work. The Hebrew for " reared up" is also used in the context of resurrection and glorification / exaltation. As our Lord sensed His final, ultimate achievement of the Father's glory in His own character, He could look ahead to our resurrection and glorification. He adopted God's timeless perspective, and died with the vision of our certain glorification in the Kingdom. This fits in with the way Psalms 22 and 69 (which evidently portray the thoughts of our dying Lord) conclude with visions of Christ's " seed" being glorified in the Kingdom. There are a number of passages which also speak of the temple (also representative of the ecclesia) being a work which was finished (e.g. 2 Chron. 5:1). In His moment of agonized triumph as He died, the Lord Jesus saw us as if we were perfect. Surely, surely this should inspire us to have the confidence that this is still how He sees us, both individually and collectively? The mystery of God will ultimately be " finished" in the Kingdom (Rev. 10:7); and yet on the cross Christ could see that effectively " It is finished" at that point, in that the way had now been made absolutely certain. So confident was the Lord in the power of His sacrifice, so great was His sense of purpose and achievement! And nothing has changed with Him until this day.

"It is finished" has some connection with the Lord loving His people "to the very end" (Jn. 13:1- eis telos). To the end or completion of what? Surely the Lord held in mind Moses' last speech before he died. Then, "Moses had finished writing all the words of this Law in a book, even to the very end (LXX eis telos)" (Dt. 31:24). It was Moses' law which was finished / completed when the Lord finally died. Again we marvel at the Lord's intellectual consciousness even in His death throes. The fact He had completed the Law was upmost in His mind. This alone should underline the importance of never going back to reliance upon that Law, be it in Sabbath keeping or general legalism of attitude.
Progressive Revelation
Putting all this together, we see our Lord realizing that He had achieved the perfect reflection of the Father's glory, His character; He had finished the work the Father had given Him to do. He knew that the perfection of that manifestation which He had achieved would be imputed to us, and therefore He looked forward to us as if we were perfect, He foresaw our salvation, He saw us in the Kingdom. It is quite possible that in some sense the Lord Jesus had a vision of us in the Kingdom (1). It can be noted that Christ's working of the work of God is associated with His miracles. Each of them was part of the work which the Father had given Him to finish (Jn. 5:36). The Lord's miracles were not motivated by a desire to do solve the need of this present evil world; they were " signs" which spoke of the Father's character; they were a progressive manifestation of the glory of the Father in order to deepen the faith of the disciples (Jn. 2:11). This is why each of them can be seen as deeply parabolic, teaching so much about the character / glory of the Father. Any temporal physical help which they provided was only an incidental by-product.

The progressive nature of Christ's manifestation of God's glory through the miracles is suggested by Jn. 2:11: " This beginning of miracles did Jesus...and manifested forth his glory" . Likewise Matthew's Gospel has at least four references to the fact that Christ " finished" or " ended" revealing God's words (Mt. 11:1; 13:53; 19:1; 26:1), using the same word as in Jn. 19:30 " It is finished" . His words were a manifestation of the Father's glory / character. Thus in Jn. 17 Christ associates His manifestation of the Father's Name / glory with His (progressive) giving of the Father's words to the disciples. Thus at the very end Christ must have felt that now He had reached the end of that progressive revelation, now He was manifesting the fullness of God, a God who is love- as He hung naked, covered in blood and spittle, totally misunderstood, deserted by His superficial disciples. At that point He was fully, fully, completely, manifesting the Father.
Our Perfection
In His final physical agony, the mind of our Lord was full of thoughts of our salvation. Such was the extent of His devotion to us. It has taken us hundreds of English words to just begin to enter into the intensity of spiritual thinking which was going on in the mind of our Lord. And yet He asks us to share His cross, to run our whole life with endurance even as He endured on the cross (Heb. 12:1,2), to personally enter into His sufferings; to be likewise filled with an overpowering concern for the salvation of others and the reflection of God's character in our own. It seems that Paul was able to enter into the mind of the Lord Jesus in this. " This also we wish, even your perfection" (2 Cor. 13:9), your finishing, your rearing up as a perfect tabernacle; this was Paul's attitude to spiritually weak Corinth. " I have finished my course" (2 Tim. 4:7) uses the same word as in Jn. 19:30 (" It is finished" ). 2 Tim. 4 has a number of other allusions to Christ's final sufferings. As the Lord felt He had finished the work just before He actually had (Jn. 17:4), so did Paul in 2 Tim. 4; He felt He had entered into that sense of finishing which his Lord had on the cross. Our aim is to be perfected, to come to the full knowledge of Christ, " unto a perfect man (a finished man; the same word as in " It is finished" ), unto the measure of the stature of the fullness of Christ" (Eph. 4:12,13). As our Lord moved towards that point of ultimate spiritual completeness, so do we too. At last we will attain that perfection, at last we too will know the feeling of " It is finished" - as a result of the imputation of Christ's righteousness to us.
---
Notes
(1) See " Father, forgive them" .